| | |
| --- | --- |
| | : Events |


World Youth Peace Vigil


October 28, 2004



WYPS Japan


Tokyo, Japan -

August 5, 2004



WYPS Taipei


Taipei, Taiwan R.O.C. - July 7, 2004



European Regional Summit


Sarajevo, B&H - May 7-10, 2004



Asia-Pacific Regional Summit


Bangkok, Thailand - February 24-29, 2004



WYPS India


Bangalore, India - December 7-9, 2003



Kyoto Planning Session


Kyoto, Japan - April 8-11, 2003



World Youth Quest for Peace



| | |
| --- | --- |
| | : Gold Star Sponsors |


Dr. B.K. Modi
Founding Chairman, Modi Foundation

Master Sheng Yen
Founder, Dharma Drum Mountain

Reiyukai
| | |
| --- | --- |
| | : Letters of Support |
| | |
| --- | --- |
| | Bawa Jain - Chairman, World Youth Peace Summit |
| | |
| --- | --- |
| | Prince Cedza Dlamini - Co Chairman, Africa, World Youth Peace Summit |
| | | |
| --- | --- | --- |
| | "As the Africa Co-Chair I believe that our common vision should inspire us to action, partnership and leadership to achieve the peace we seek in the world. We should not be bystanders. Instead, we should fight the root causes of war and most conflicts: poverty, religious and ethnic differences, prejudice and unemployment to name a few." | |
| | |
| --- | --- |
| | Youth Ambassadors - Thailand |
Janista Lewchalermvongse - MP, Don Muang, Chat Thai Party

Janista Lewchalermvongse is a Member of Parliament for Don Muang constituency in Thailand. Prior to beginning her years in politics in 2001, Janista's looks led her to modeling stints on the cover of several women's magazines and hosting spots on popular television talk shows. As a respectable MP today, she is passionate about her current responsibilities to the community.

Dr Nahathai Thewphaingarm - MP, Huay Khwang, Thai Rak Thai Party

Along with being among the young Members of Parliament, Dr. Nahathai somes from "a family of straightforward, tough peaople who can't stand seeing injustice and being resigned to it." The family own the Thewphaingarm School in Thailand of which, she is Director.

Education is a priority for Dr. Nahathai, she quotes" Thai society must reform its culture of learning and communication. People must be stimulated to explore and express themselves based on a foundation of reason and not emotion." At present, the young MP has started a program to help the "Huay Khwang" community to be self reliant byt turning waste into natural fertilizer.

Pimuk Simaroj - MP, Thai Rak Thai Party

Along with being a Member of Parliament representing the Thai Rak Thai party, Mr. Simaroj is also Spokesperson to the Parliamentary Commission on Energy and Spokesperson to the Foreign Affairs Minister. In addition to that, Mr. Simaroj also serves as Vice Chair of the Executive Board of the Siam United Service Public Company Limited and the Siam Mongkol Marine Company Limited.

Prabda Yoon - Writer/Artist

Prabda Yoon was born in Bangkok in 1973. At the age of 14, he went to the U.S.A. for his studies and remained there for 11 years.

Prabda received his BFA from The Cooper Union for the Advancement of Art and Science, New York City, in 1997, and returned to Thailand the following year. He now works in Bangkok's creative circle as writer, critic, editor, graphic designer, illustrator, painter, photographer, scriptwriter, and lyricist. His novel, written for the film 'Last Life in the Universe' (starring Tadanobu Asano, filmed by Christopher Doyle) was recently published in Japan by Sony Magazines.

Pataravarin Timkul - Actress/ Model
| | |
| --- | --- |
| | Youth Ambassadors - Cambodia |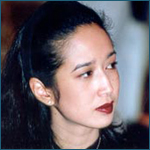 HRH Princess Rattana-Devi Norodom - Member of Parliament


| | |
| --- | --- |
| | Youth Ambassadors - India |
Leander Paes - Tennis Player

Leander Paes, India's Tennis pride, was born in Goa on June 17,1973 and brought up in Kolkata. Born into a family of sportsmen; His father, Vece was a member of the Indian field hockey team which won a bronze medal in the 1972 Munich Olympic Games and mother, Jennifer a member of the basketball team; Leander began playing tennis at the age of 5.

He captured the 1990 Wimbledon Junior title and was ranked as the No.1 junior player in the world at one time. Since then he has been representing India at various international events winning matches bringing glory to the country.

He teamed up with Mahesh Bhupathi to form the Indian doubles team and the duo in 1999, showed their class by winning the French Open and Wimbledon and entering the finals of the two other Grand Slam Tournaments; the Australian and US Opens. They came together again in time for the Sydney Olympics and started regaining their lost prestige at the end of 2000, winning the Men's Double title in Japan Open 2000 followed by Worlds Doubles Championship in Bangalore, Verizon Atlanta Challenge, US Clay court Championship in Houston and at Roland Garros defeating the Czech pair of Petr Pala and Pavel Vizner, ranked no. 2 in the world.

Nandita Das - Actor/Social Activist

Although globally recognized for her performances on screen as a critically acclaimed Indian actress, Nandita Das remains deeply involved with her activism and social work. She holds a Masters degree in Social Work and is involved with various Civil Society organizations and movements. Over the years, she has actively campaigned against communal violence, violence against women, stigma concerning HIV/ AIDS and has raised a strong voice on the issues of child rights, disability and human rights. Not only has she voiced her concerns at relevant platforms, but she has also actively advocated for certain issues close to her heart at various social forums in India and abroad. In recent times, she has also been producing and directing Public Service Films in a furthering of her role as a social communicator and advocate of human rights.

Rahul Bose - Actor/Producer/Humanitarian

Rahul Bose started his acting career early, when as a boy of six he played the lead in his school play, 'Tom, the Piper's Son'. Ever since then his love for theatre has only grown with a prolific body of work on the Bombay stage, culminating in his last performance at the Leicester Haymarket in England where he played the lead in Tim Murari's 'The Square Circle'. His film career took off with the unprecedented success of his first film, 'English, August', today a cultish favourite amongst cinephiles. Acclaim followed for his work in movies like 'Split Wide Open' (Best Actor, Singapore Film Festival, 2000), Mr. And Mrs. Iyer, and 'Jhankaar Beats' – all international award-winning films. Although 'Thakshak' and 'Chameli' may be considered to be more mainstream his image as India's premier actor of the alternative cinema finds concurrence across the world. 'Time' magazine called him 'the superstar of Indian arthouse cinema' while 'Maxim' (Italy), 'the Sean Penn of Oriental cinema'.

In a piquant twist to the tale, Rahul is also on the national Rugby team, having represented India for the past six years. If he owes that part of his life to the encouragement given to him at the Cathedral School in Bombay, his social concerns have more to do with his exposure to his extensive travels by road, rail, water and air, across India. Today his primary areas of focus are communal harmony and gender equality. He has lectured at Oxford on the former, written extensively about the issue and now regularly works with over 120 boys and girls of all religions as part of an initiative created by 'Akshara' a Bombay-based NGO. He is on the advisory board of 'Breakthrough', a New York-based NGO committed to gender equality and human rights. He has lectured on the same at the World Youth Peace Summit last year.

An advertising professional (at 26, he was creative director of Rediffusion D,Y &R) who chucked it all up to become a full time actor, Rahul wrote and directed his first feature film, 'Everybody Says I'm Fine!' for which he won an Honourable Mention, The John Schlesinger Award for Best Debut Feature Film, at the Palm Springs International Film Festival, 2003. The film also garnered a Gold Award at the WorldFest in Houston. The first English language film out of India to attract (non-Asian) American theatrical distribution, '…I'm Fine!' is set to release in New York on September 1, 2004.


Nikhil Nanda - Executive Director & Chief Operating Officer, Escorts Group

As Executive Director and Chief Operating Officer of Escorts Group, Mr. Nikhil Nanda has the overall responsibility for managing the Group's agri, construction and engineering businesses. Together with business heads, he is leading the corporation's campaign to transform its culture towards efficiency and aggressive growth.

Mr. Nanda has been actively involved in day-to-day operations of the company since he took over as its Executive Director in May 2000. As a member of the core group responsible for strategizing the group initiatives, he was also responsible for developing, recommending and executing an overall financial strategy for the Group aiming at capturing maximum value for its shareholders. Prior to assuming the position of the Executive Director, Mr. Nanda had been a Director on the Board of Escorts Ltd. since 1997.

Mr. Nanda had joined the Group as Director, Business Development, of Escorts Yamaha Motor Ltd. (EYML), in 1998 and was responsible for formulating the joint venture agreement with Yamaha Motor Company and strategy for the motorcycle business. He was also involved in new product selection, preparation of marketing strategies as well as vendor consolidation. Later, as Joint Managing Director of EYML, Mr. Nanda initiated business process re-engineering for the company and played a key role in finalizing a labour agreement, which led to 30% increase in productivity and substantial manpower reduction.

Mr. Nanda is among five Indians selected as the Global Leaders of Tomorrow for the year 2001 by the World Economic Forum, Geneva.

He also sits on the boards of several other Group companies, namely, Escorts Construction Equipment Ltd., Escosoft Technologies Ltd., Escorts Finance & Investment Pvt. Ltd., Escolife Pvt. Ltd., Escorts Securities Ltd., Escotoonz Entertainment Pvt. Ltd., and Escorts Agrimachinery Inc., U.S.A

Mr. Nanda is a member of Indo American Chambers of Commerce, high-level strategic group constituted by All India Management Association, Young India Committee of CII and Federation of Indian Chambers of Commerce & Industry.

Born in March 1974, Mr. Nikhil Nanda is an alumnus of Wharton Business School, Philadelphia. Having graduated in Business Administration in 1995, he majored in Management and Marketing, before undergoing professional training with JC Bamford Excavators Ltd., U.K.

Viveik Annand Oberoi - Actor/Humanitarian

Viviek Oberoi was born in Mumbai, India on September 3, 1976 and then attended the Mayo college in Ajmer. At an actors' workshop in London he was spotted by the director of NYU who whisked Viveik off to New York City to complete his Masters Degree in film acting. Returning to India, Vivek worked as scriptwriter and bought his first car with the money he made from that. Oberoi's big break came when noted filmmaker Ram Gopal Varma offered him a role in his gangster flick, Company (2002). From there his career blossomed as a Bollywood star.

Viveik is also an active humanitarian and is involved in a variety of charitable causes. He is the WHO's anti-tobacco spokesman and he is actively involved in a home in Chennai for retarded and abandoned girls as well as a center in Bombay for juvenile delinquents. Since the devastating tsunami, he has been involved, through Project Hope (see www.projecthope-tsunami.com) in short term and long term relief for thousands of villagers in Tamil Nadu and Pondicherry. Project Hope's work began in Devanampattinam, district Cuddalore, Tamil Nadu and has expanded to village Pattinchari, Pondicherry. His visit to the tsunami affected areas had a tremendous impact on him and he worked tirelessly. One of his volunteers quoted "I know what actors are like. [Oberoi] is the purest, most pious, most selfless person I've ever worked with."

Viveik Oberoi was recently honoured with the 'Good Samaritan Award' by Rotary International district 3230 along with another special award in the category of Social Acts of Courage for his work during the tsunami tragedy.

Viveik is also a deeply spiritual person and travels frequently to his Guru's ashram in Rishikesh to pray at the Ganga Aarti, sit on the banks of the Ganges and spend time with the young, poor, disadvantaged boys whom the ashram has adopted into the Gurukul.

| | | | |
| --- | --- | --- | --- |
| | | | Youth Ambassadors - Pakistan |
Abrar-ul-Haq - Singer/Artist/Humanitarian

Abrar-ul-Haq is an explosive Pakistani pop Bhangra and Folk artist and one of Punjab's greatest assets in the modern age of music. He is also the chairman and founder of the Sahara for Life Trust, a charitable organization promoting health and education in remote areas. The term SAHARA stands for: "Services Aimed at Health and Awakening in Remote Areas".

In a recent message, Mr. Haq stated "I have a dream of building state of the art tertiary care hospitals, academic institutes of excellence and social development projects, where the unreached, unserved, and underprivileged people are provided free medical, educational and social services and to enhance a will to live."

Sharmeen Obaid Chinoy - Award Winning Journalist/Filmmaker

Sharmeen Obaid-Chinoy is the first non American journalist to be awarded the prestigious Livingston Award. She recently completed her fifth film, which deals with the effects of the war on terrorism on Pakistan for Britain's Channel 4. Obaid's first documentary Terror's Children, premiered on the launch night of the Discovery Times Channel (A venture between The New York Times and Discovery Communications) on March 25, 2003.

Obaid was awarded the American Women in Radio and Television Gracie Award for "Individual Achievement, Reporter/Correspondent" for her work in the documentary Terror's Children. She was also awarded the Overseas Press Club Award, ("The Carl Spielvogel Award" for best international reporting in any medium showing a concern for the human condition) and the South Asian Journalist Association Award for the same film.
| | |
| --- | --- |
| | Youth Ambassadors - Israel |
Oren Magnezy - Prime Minister's Liaison to The Knesset

Oren Magnezy joined Prime Minister Ariel Sharon's staff in September 1999, when Sharon was elected Chairman of the Likud party. Magnezy served as the assistant to the Likud Party's Director General. Following the elections in March 2001, Magnezy began working as the assistant to the head of the Prime Minister's Bureau. Later that year, he became a senior assistant to the Director General of the Prime Minister's Office. Since February 2003, Magnezy has served as the Prime Minister's Adviser and parliamentary liaison.

Within the framework of his current responsibilities Magnezy maintains the contact between the Prime Minister, his office and members of Knesset. Magnezy promotes legislative processes, assists the coalition in approving the annual State Budget and represents the Prime Minister's Office in various Knesset committees.

In addition to his parliamentary related duties, Magnezy serves as Secretary of the Public Council for the Commemoration of Presidents and Prime Ministers, and coordinates the Prime Minister's nominations to government companies and agencies.

Upon conclusion of his service in the Israel Defense Forces in 1998, Magnezy headed the department of settlement in the "Betar" Youth Movement. In his youth, he was elected Chairman of the Youth Council in the city of Ra'anana and was active in various political organizations relating to government reform in Israel.

Magnezy, 29 years old, was born in Ra'anana and currently resides in Jerusalem. He is due to complete his Bachelor's Degree in Law and Government at the Interdisciplinary Center in Herzliya.

Since 1998, Magnezy has been an active member of the Likud Party, Israel's national-liberal party. He supports Prime Minister Ariel Sharon's Disengagement Plan as well as the "Roadmap to peace", in accordance with President Bush's vision as expressed in his June 2002 speech.

During the course of the Israeli evacuation of the Gaza Strip in August 2005, Magnezy was assigned to the IDF and Police's field headquarters by the Prime Minister's Office. He provided real-time briefings for the Prime Minister and his senior staff and assisted in coordinating the evacuation of settlers and their belongings with the army and various government officials.
| | |
| --- | --- |
| | Youth Ambassadors - Japan |
Akiyoshi Tanaka - Writer/Poet

Akiyoshi Tanaka was born in 1970 in Shizuoka Prefecture, Japan.

While studying in the Policy and Management Department at Keio Gijuku College as a freshman, he won the 36th Kadokawa "Tanka" Poetry Award. Tanaka started to write as an undergraduate student, and has published books from Kadokawa Shoten, Kodansha, PHP Kenkyujo, Bunshu Nesuko, Tokyo Shinbun Publishers, etc. In 2001, he was elected as a WAFUNIF Goodwill Ambassador. He has participated in UN programs in New York, Thailand, South Africa, Canada, Belgium, and other countries.

Along with being the WYPS Youth Ambassador for Japan, he presently chairs the promoting committee for "Earth's Forest Project," run by FGPE (Foundation for Global Peace and Environment) and UNEP (United Nations Environment Programme).
| | |
| --- | --- |
| | Youth Ambassadors - Bosnia-Herzegovina |
Muhamed Mešiæ - Council member, Tuzla City Council

Born August 8th, 1984, in Tuzla, Bosnia-Herzegovina

Completed primary and secondary education in Tuzla, at present studying at the School of Law of the University of Vienna, specializing in International Law and International Relations, with an elective minor in East Asian Studies/Japanese

Fluent in (apart from the Bosnian/Serbian/Croatian mother tongue) English, French, German, Italian, Spanish, Portuguese, Norwegian, Swedish, Danish, Romanian, Slovak and Dutch; communication skills in Japanese, Hungarian, Albanian, Basque, Polish, Catalan, Finnish, Galician, Czech, Bulgarian, Macedonian, Russian, Slovene; limited communication skills in Arabic, Scottish-Gaelic, kiSwahili, Estonian, Breton, Hebrew, Bahasa Indonesia, Icelandic, Latvian, Greek and Turkish, and several other languages, emphasizing minority and unofficial or endangered languages
| | |
| --- | --- |
| | Youth Ambassadors - South Africa |
Catherine Constantinides - Editor, SA Fusion Magazine/Environmentalist/Runs many youth, community, and social upliftment projects in South Africa/Miss Earth South Africa 2003

Catherine has always been a special girl, and has made a difference in every sphere of her young life. Since she was 13-years old, she has been actively involved in community, social and youth upliftment projects all over the country. Those who know her, describe Catherine as a young woman with brains, beauty and a heart of gold.

Catherine has represented South Africa at several international competitions during 2001, in both the US and Europe. She has contributed to charitable functions and drives for almost her whole life, and decided to establish her very-own African Renaissance Project in 2000, which is a foundation, which aids the quadriplegic association as well as helping to alleviate child poverty in many areas. She had the privilege and honour of meeting Mr Nelson Mandela, a moment in her life that she will never forget. She said, "You sit with a man of his stature and his credibility and you know how much he has done not only for our country but for mankind. You have to sit back and realise that he was a man with a vision and a dream and he never gave up on all the things he believed in. We are creating our own culture and brand as a multi-cultural country. We have so much to offer the world, and this is just the beginning. It is up to us to reach the outer boundaries of ourselves and to make a difference. In the wilderness, young are nurtured, so they can go forth and continue the cycle of nature. The most significant creation in nature is the human child. And that is what has suffered the greatest casualties in Africa – the human child."