The European Youth Peace Summit carried the title, 'Tolerance and Harmony in Diversity'. The youth leaders present created a Youth Declaration that called for an expansion of the role youth play in society, an end to discrimination, pan-European respect, communication channels to be opened to young people, and recognition of the value of education and positive communication.

Sponsors
IEVE Magazine Sa Stilom
Reiyukai
Mohan Lal Mittal, Chairman of ISPAT Group

Strategic Partners
Council of Europe
City of Sarajevo
Government of PM Adnan Terzic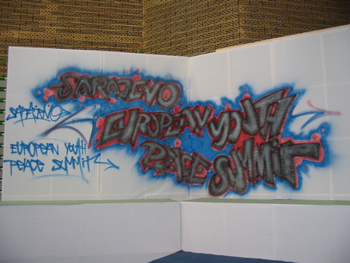 Youth Declaration
We, as youth leaders of Europe, gathered at the European Youth Peace Summit in Sarajevo, a city which has refused to die, having thus become a symbol of resistance, multiculturalism and understanding between people, declare the following:
We are aware that we are at a historic crossing towards European integration in a world that offers us, like never before, opportunities for development and prosperity of humanity, for interaction between peoples and mankind. We are, however, also aware that the world is facing global threats from terrorism, instability, xenophobia, and negative influences on sustainable development. We wish to expand the role of youth in society and their contribution to global efforts in building peace, stability and understanding.
We are a generation of youth conscious of their task and responsibility today, and particularly in the future. We appeal to the leaders of today that differences in gender, age, religion, culture, sexual preference and all aspects of civilization must not be a source of any form of discrimination. We must strive to achieve new equilibrium in the world – and that means balance and equality between the rich and poor, majority and minority, men and women. Without the reduction of this gap and with no balanced development, it will be hard to maintain peace and the sustainability of our resources.
We, as youth leaders of Europe, especially when new relations are being established in our continent and its new architecture is being created, hope for a Europe in which all Europeans have equal chances, to which all Europeans have equal access – in a corruption-free society. We request that, in the spirit of our common, European civilisation and our specific national traditions, everyone who lives in Europe must be considered European and treated with not just tolerance, but respect.
Misconception, prejudice and fear create rage and hatred. That is exactly why misconception, prejudice and fear must not determine our future. We are convinced that the education of youth and their communication in a spirit of mutual respect and understanding can help in improving international relations, strengthening the peace and establishing it, there where there is none.
Decision makers at all levels must provide information and communication channels in which youth can take part. International organizations must take stronger action on all global issues, while involving youth in the process. It is clear that the young people of today will be the leaders of tomorrow, and therefore they have to fully participate in society, TODAY. Besides only appealing to governments and international organizations, the youth must also take responsibility and commit to engage in solving global problems. This Summit is a starting point that can produce action and bring change, that it can and will establish a global network and then support peace, equality and understanding in the world. We commit to strengthening the spirit of solidarity and common civic action in solving the problems mentioned by this Declaration.
We wish that tolerance grows into solidarity, and solidarity into ACTION!
Given at Sarajevo, May 10th, 2004
The role of youth, and actions to come in order to achieve the commitments and vision given in this declaration, are part of an Action plan, which is a direct outcome of the individual thematic sessions at the Summit.
A Glimpse of the Summit...